Lacking the Black Stuff
PLEASED TO MEET YOU
My name is Peter Karellas and I'm a recent graduate of Pace University in New York. I'll be blogging over the next month about issues related to US Energy policy and anything else that catches my fancy.
I hope you all enjoy what I have to share and if you don't; tell me so!
MY FULBRIGHT EXPERIENCE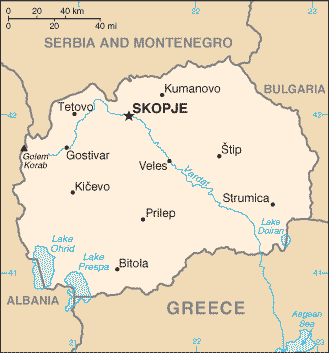 I recently returned from an 11-month research tour of the Republic of Macedonia and the Balkan region. Stories abound, here are few short bits of my time in Eastern Europe. Hard to believe that this small, landlocked country of only 2m people was recently on the brink of civil war in 2001. Since then, the economy has remained mostly stagnant with little privatizations or foreign investment.
What's more unsettling is that since I departed in October 2006, the former leader of Albanian guerilla fighters (Ali Ahmeti) has hinted that if his ousted political party (which won 60% of the vote in the recent election) is not given it's proper recognition, they may take up arms again. Macedonia is used to being ignored. Although tiny, Macedonia can influence countries surrounding it (Albania) by becoming and open wound of ethnic conflict in the region.
LET THAT GOOD OIL FLOW
More than likely these are just empty innuendos by Ahmeti sympathizers and at any rate, would not harm the oil/gas pipeline being developed through the region. The pipeline would originate from the oil rich Black Sea in Bulgaria, through Macedonia and end up at the Albanian coast on the Adriatic.
At the same time the good ol' US of A is getting comfy on the couch and building a state of the art embassy atop a hill in the Macedonian capital of Skopje. The Bourgas-Vlora oil pipeline will be 870 km long and its transportation capacity will be 35 million tons of oil annually. Overall, this project will cost nearly 1.2 billion euro and is being financed primarily by the Overseas Private Investment Corporation (OPIC) - a US development agency - the Eximbank and Credit Suisse First Boston, among others.